HeadLines
At Xilloc we are dedicated to assist surgeons and help patients to  "Get aHead with patient specific implants" . Within such a young company, many things are happening and considerable progress is made all the time. In this first edition of our HeadLines , allow me to share with you our recent achievements and other interesting news.
MedX for easy online ordering
MedX is designed to make it easy (yet secure) to order custom implants online and get rid of a lot of paperwork; simply upload CT or CBCT data, enter some details about the patient and receive your personalized quotation. Approve the quotation online and provide us with your design input in an online 3D environment. Within 3 weeks (on average) you will receive the custom implant. So you can already schedule the operation date when ordering!
iPad app MedX
Available for free in the App Store , our MedX app comes with 3 demo cases to experience our implants in 3D at your fingertips. But above all, the app is an extension of the online ordering system MedX; if you login, you have access to your cases on your iPad. This is really helpful to show the custom implant to your patient and/or to discuss it with your colleagues.
Customize your custom implant
A custom implant is designed to match the patient, but Xilloc also allows surgeons to customize the design. You can tune the implant to your exact wishes; do you want extra spacing somewhere, do you want a specific hole pattern, do you want our patented tangential fixation holes? Everything is within your reach. But to make the choice easier, our custom cranial plates come in three categories of various features and prices. Contact us to learn more.
Xilloc at the BSN annual meeting
On March 30th 2013, Xilloc will be present at the Annual Scientific Meeting of the Belgian Society of Neurosurgery  in Gent. We are looking forward to meet (almost) all Belgian neurosurgeons and show them our wonderful custom cranial reconstruction plates.
Website 2.0
Well, you are here on our website now, so please have a look around! It is aimed to inform both surgeons and patients. I f you think any information is missing or incorrect,  please inform us. If you like our website, please tell your colleagues.
New Headquarters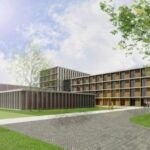 We moved from the old BioPartner centre on Oxfordlaan 70, to the new Biopartner building on the other side of the street at number 55. Still within arms reach of the Maastricht University Medical Centre, our office has doubled in operational and production space, so we can serve you even better with your patient-specific needs.
Xilloc on Facebook
Now you can follow (and Like!)  Xilloc on Facebook  and comment on our activities. We aim to gather several patient stories here as well in the future.